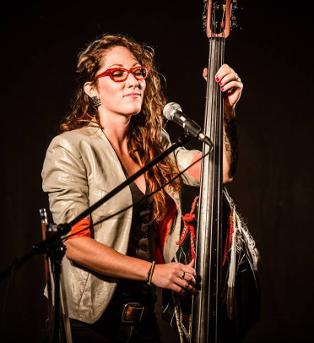 (TOURING BASSIST / PRODUCER/ TOUR MANAGER)
MJ DANDENEAU of Ojibway/Métis ancestry was born in Winnipeg, Manitoba in a French-speaking family. Her tours and studio work have literally taken her all over the globe and nationally recognized with recordings awards such as Canadian JUNO, WCMA-Award & CFM-Award. MJ's deap seated roots to her French-Canadian and Metis heritage are translated and embodied in the music she creates.
Over the past 15 years, MJ has created a fiercely independent musical history that includes numerous TV performance productions, studio session recordings, producing and performing around the world (Europe, UK, North America, Asia, Australia, New Zealand). Her tours have literally taken her, and her unique style of bass playing, all over the globe. Her musical path has led her to play with many international artists (see list below), ultimately attributing to her ability to be phenomenally versatile and well versed in many genres of music.
Her involvement in the music industry stretches into numerous aspects of the business. Her extensive knowledge has been sought out and she has been requested to sit on various juries and consultation committees for the Canada Art Council, FACTOR, Winnipeg Art Council, OCFF, Manitoba Film & Music and Western Canadian Music Awards.
MJ's multi-faceted talents have given her the ability to be a successful Touring Manager for the past 9 years working with artists such as the The Good Lovelies, Sarah Macdougall, Oh My Darling and Amanda Rheaume. She's a well knowledge Booking Agent (MJEntertainment Canada Inc.) for nearly 8 years, booking across Europe and Canada. She has worked with numerous promoters, labels, publicity and distributors such as Blue Rose, Outside Music, Different Strings, Roots Around the World, Musemix, Killbeat Music and Frontier Promotions.
Also having a degree in sound engineer, she also lends her skills as a Sound Engineer/Producer with the groups and artists while on tour.
In addition to MJ being a touring musician, being a proud French –Canadian and Métis woman she is also leading up La Pchit Michif, a business that offers interactive bilingual cultural workshops for students around the world. She tours from coast to coast, north to south, all the small towns and reserves of our nation. MJ's mission is not only to be a teacher but most importantly a mentor, instilling values of patience, respect, integrity and kindness. These values have been passed on from her elders and bring back so young people can ultimately adapt these teachings in their every day lives. 

Toured, played, and shared the stage with:
Andy Stochansky
Don Amero
Sarah Harmer
Amanda Rheaume
Donovan Frankenreiter
Sarah MacDougall
Ash Grunwald
Doug Cox
Sarah Slean
Ben Harper
Dirk Powell
Shane Phillips
Blue King Brown
Etta James
Tim O'Brian
Blue Shaddy
Gomez
The Good Lovelies
Bondi Cigars
Kathleen Edwards
The Roots Band
Brandi
Leela Gilday
The Violent Femmes
Buckwheat Zydeco
Lynne Hanson
The Wyrd Sisters
Buffy Saint-Marie
Nine Mile
Toby
Burnt Project 1
Oh My Darling
Tribe of One
Chantal Kreviazuk
Pacific Curls
Vent du Nord
Corrine West
Pete Murray
Wendy McNeil
Digging Roots
Rose Cousins
Xavier Rudd
           …just to name a few
Awards:
| | |
| --- | --- |
| 2015 | Indie Music Award Singer of the Year with album River of Sand- Lynne Hanson. |
| 2015 | Canadian Folk Music Award Nominee for best Singer of the Year with album Grand Cayon- Sarah Macdougall. |
| 2015 | Western Canadian Award for best Roots Album of the year with artist Sarah Macdougall. |
| 2014 | Juno Nominee for best Aboriginal Album of the year with Amanda Rheaume |
| 2014 | Western Canadian Award Nominee for best Aboriginal Album of the year with Leonard Sumner |
| 2013 | Juno Nominee for best Aboriginal Album of the year with group Burnt Project 1. |
| 2013 | Western Canadian Award Nominee for best Francophone Album of the year with group Oh My Darling. |
| 2013 | Western Canadian Award Nominee for best Aboriginal Album of the year with group Burnt Project 1. |
| 2012 | Indian Summer Music Award for best Best Country Song of the year with Don Amero, for the Album Long Way Home. |
| 2012 | Western Canadian Award Nominee for best Roots Album of the year with group Oh My Darling. |
| 2011 | Native American Music Award for best Best Folk Recording of the year with Don Amero, for the Album Long Way Home. |
| 2011 | Western Canadian Award Nominee for best Aboriginal Album of the year with Don Amero, for the Album Long Way Home. |
| 2010 | Juno Award for best Aboriginal Recording of the year with group Burnt Project 1. |
| 2010 | Western Canadian Award Nominee for best Album Design with group Oh My Darling. |
| 2009 | Awarded On The Rise Award from the Winnipeg Art Council: recognizes the demonstrated promise of an emerging professional artist |
| 2009 | Western Canadian Award Nominee for Best Roots Album with group Oh My Darling. |
| 2009 | Chosen to be on the cover of Bass Girl International magazine, representing Canada. |
| 2005 | National Office of Canadian film nominated "Elle", a short film produced, directed and created by MJ Dandeneau for the finalist festival Silence, On Court; organized by the CBC and the National Office of Canadian film. The film was then shown throughout Canada as well as in Winnipeg at the Cinémental Theatre. |
| 2003 | Western Canadian Award for best Francophone Album of the year with Self title album, "Elle". |
| 2002 | Awarded best francophone recording at the Prairie Music Awards for Le Studio in the album for the band Belle Folie, entitle Meduse. |
Instruments: